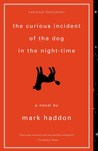 The Curious Incident of the Dog in the Night-Time by Mark Haddon
My rating: 3 of 5 stars
Although this books has been on my shelf for a long time, I didn't really know anything about it when I picked it up, prompted to do so by the fact I'll be seeing the stage adaptation in a few months. The narration from the perspective of someone on the autism spectrum interested me immediately, but it sometimes felt like a bit of a gimmick wrapped in stereotypes of autistic man-children who scream or cover their ears when they're upset the way Dustin Hoffman did in Rain Man. I liked Christopher and the complicated relationship he has with his obviously overwhelmed parents, but the lack of specificity about his diagnosis allows Haddon to gloss over difficult moments. It feels like this book wants to be a thoughtful and sincere representation of a cognitively different character, but by the rushed ending, it doesn't succeed as well as I was hoping it would after a promising start.